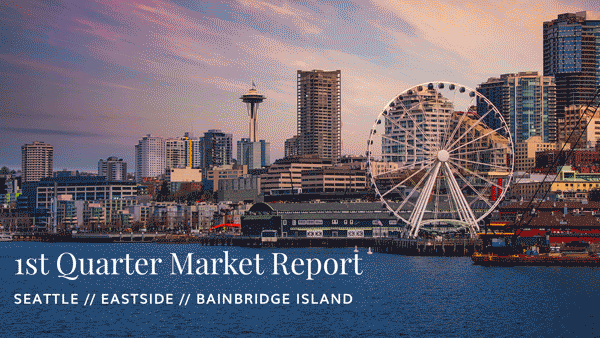 Each quarter, analyzes market data to examine trends and to ensure our clients better understand the real estate market. In the late first quarter of 2020, the Puget Sound area, its economy, and the real estate market began experiencing the impacts of the stay-at-home order due to COVID-19. The majority of data gathered occurred before that happened, and although we're understanding the preliminary effects of COVID-19 on real estate, we can see in these reports that it was trending positive for sellers in all four of these market areas.
Seattle | Single-Family Homes
​​​​​​​
​​​​​​​In early 2020, homes moved quickly in Seattle—over 1,200 homes were sold, up 14 percent from this time last year and home sellers were entering a prosperous market, as well.
Eastside | Single-Family Homes

​​​​​​​​​​​​​​The year started on a high note for home sellers: The median price for homes on the market was up from a year ago, as was the price per square foot for these listings.
Mercer Island | Single-Family Homes

​​​​​​​Sellers on Mercer Island experienced a longer time on market, with the average number of days until close up to 108 from last quarter's 62-day average, while the median home price saw a slight increase year-over-year.
Bainbridge Isla | Single-Family Homes

​​​​​​​​​​​​​​Homes spent an average of 77 days on market, more than this time last year, but sellers likely saw more value in their homes, as the average price per square foot was up 23 percent.
Seattle | Condominiums

​​​​​​​After experiencing neutral market conditions in the third quarter of 2019, condominiums in Seattle slipped back into the favor of sellers, ending the year with 2.5 months of inventory.
Find even more detailed market data and analysis by neighborhood or zip code by signing up for Realogics Sotheby's International Realty's monthly automated market tracker reports.